As always, Top Ten Tuesday meme is hosted by The Broke and the Bookish. This week's topic is: Pick a genre and share with us some books that have gone under the radar in that genre!
And I'll go with fantasy as it is my favorite genre.I do not own the pictures in this post, please see the end of the post for the credits.
1.The Chronicles of Amber by Roger Zelazny
"I like libraries. It makes me feel comfortable and secure to have walls of words, beautiful and wise, all around me. I always feel better when I can see that there is something to hold back the shadows."
― Roger Zelazny, Nine Princes in Amber

Goodreads blurb: Amber, the one real world, wherein all others, including our own Earth, are but Shadows. Amber burns in Corwin's blood. Exiled on Shadow Earth for centuries, the prince is about to return to Amber to make a mad and desperate rush upon the throne. From Arden to the blood-slippery Stairway into the Sea, the air is electrified with the powers of Eric, Random, Bleys, Caine, and all the princes of Amber whom Corwin must overcome.

2. The Soldier Son trilogy by Robin Hobb
"Anticipating pain was like enduring it twice. Why not anticipate pleasure instead?"
― Robin Hobb, Renegade's Magic
Goodreads blurb: Nevare Burvelle anticipates a golden future. He will follow his father into the army; to the frontier and thence to an advantageous marriage.Over twenty years the army has pushed the frontiers of Gernia as far as the Barrier Mountains, home to the enigmatic Speck people, who retain the last vestiges of magic in a progressive world. Exotic and misunderstood, they are believed to spread a sexual plague which has ravaged the frontier, decimating entire regiments.
3. The Witcher  by Andrzej Sapkowski
"People," Geralt turned his head, "like to invent monsters and monstrosities. Then they seem less monstrous themselves. When they get blind-drunk, cheat, steal, beat their wives, starve an old woman, when they kill a trapped fox with an axe or riddle the last existing unicorn with arrows, they like to think that the Bane entering cottages at daybreak is more monstrous than they are. They feel better then. They find it easier to live."
― Andrzej Sapkowski, The Last Wish
Goodreads blurb: Geralt of Rivia is a witcher. A cunning sorcerer. A merciless assassin.  And a cold-blooded killer. His sole purpose: to destroy the monsters that plague the world.  But not everything monstrous-looking is evil and not everything fair is good. . . and in every fairy tale there is a grain of truth. 
4. The Gatekeepers by Anthony Horowitz

"There are two worlds. The world you understand and the world you don't. These worlds exist side by side, sometimes only centimeters apart, and the great majority of people spend their entire lives in one without being aware of the other. It's like living in one side of a mirror: you think there is nothing on the other side until one day a switch is thrown and suddenly the mirror is transparent. You see the other side."
― Anthony Horowitz, Raven's Gate'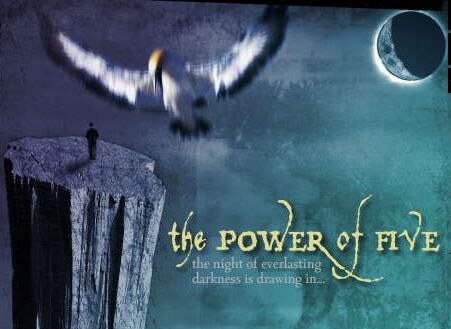 Goodreads blurb:  He always knew he was different. First there were the dreams. Then the deaths began.  When Matt Freeman gets into trouble with the police, he's sent to be fostered in Yorkshire. It's not long before he senses there's something wrong with his guardian: with the whole village.  Then Matt learns about the Old Ones and begins to understand just how he is different. But no one will believe him; no one can help. There is no proof. There is no logic. There is just the Gate.
5. The Shamer Chronicles by Lene Kaaberbøl

"Because even though you don't want anyone to own you, it doesn't mean that there is nowhere you belong."
― Lene Kaaberbøl, The Shamer's War
Goodreads blurb: Dina has unwillingly inherited her mother's gift: the ability to elicit shamed confessions simply by looking into someone's eyes. To Dina, however, these powers are not a gift but a curse. Surrounded by fear and hostility, she longs for simple friendship. But when her mother is called to Dunark Castle to uncover the truth about a bloody triple murder, Dina must come to terms with her power–or let her mother fall prey to the vicious and revolting dragons of Dunark.
6. Chrestomanci by Diana Wynne Jones

"Christopher discovered that you dealt with obnoxious masters and most older boys the way you dealt with governesses: you quite politely told them the truth in the way they wanted to hear it, so that they thought they had won and left you in peace."
― Diana Wynne Jones, The Lives of Christopher Chant
Goodreads blurb: Cat doesn't mind living in the shadow of his sister, Gwendolen, the most promising young witch ever seen on Coven Street. But trouble starts brewing the moment the two orphans are summoned to live in Chrestomanci Castle. Frustrated that the witches of the castle refuse to acknowledge her talents, Gwendolen conjures up a scheme that could throw whole worlds out of whack.
7. Demon Road by Derek Landy

"I… I think I broke his jaw. And bit his finger off."
"You bit his finger?"
"I bit his finger off."
― Derek Landy, Demon Road
Goodreads blurb: Killer cars, vampires, undead serial killers: they're all here. And the demons? Well, that's where Amber comes in…Sixteen years old, smart and spirited, she's just a normal American teenager until the lies are torn away and the demons reveal themselves.
8. Tales of Alvin Maker by Orson Scott Card

"I understand that you believe that it works,' said Thrower patiently. 'But everything in the world is either science or miracles. Miracles came from God in the ancient times, but those times are over. Today if we wish to change the world, it isn't magic but science that will give us our tools."
― Orson Scott Card, Seventh Son
Goodreads blurb: In an alternate version of frontier America, young Alvin is the seventh son of a seventh son, and such a birth is powerful magic. Yet even in the loving safety of his home, dark forces reach out to destroy him.
9. Redwall by Brian Jacques

"Even the strongest and bravest must sometimes weep. It shows they have a great heart, one that can feel compassion for others."
― Brian Jacques, Redwall
Goodreads blurb: Book 1: A quest to recover a legendary lost weapon by bumbling young apprentice monk, mouse Matthias. Redwall Abbey, tranquil home to a community of peace-loving mice, is threatened by Cluny the Scourge savage bilge rat warlord and his battle-hardened horde. But the Redwall mice and their loyal woodland friends combine their courage and strength.
10. Enchanted Forest Chronicles by Patricia C. Wrede
"No proper princess would come out looking for dragons," Woraug objected.
"Well I'm not a proper princess then!" Cimorene snapped. "I make cherries jubillee and I volunteer for dragons, and I conjugate Latin verbs– or at least I would if anyone would let me. So there!"
― Patricia C. Wrede, Dealing with Dragons
Goodreads blurb: Cimorene is everything a princess is not supposed to be: headstrong, tomboyish, smart – and bored. So bored that she runs away to live with a dragon – and finds the family and excitement she's been looking for.
Images: Featured image of this post by Stefan Keller, The Court of Amber by Donato Giancola, Forest Mage covers by John Howe,  Witcher by CD Projekt , Red Prophet: The Tales of Alvin Maker comics by Marvel. Pencillers: Miguel Montenegro, Renato Arlem. Dealing with Dragons cover by Peter de Sève, Redwall: The Long Patrol by Troy Howell, Shamer's Daughter movie, Demon Road covers.